As a responsible couple, I'm sure one of the first things you did when you began planning your wedding was establish a budget. When discussing your stationery budget, did you happen to include postage? One of the most common mistakes couples make is to not account for postage in their budget. Yes, this can be challenging and what I call an "unknown" expense as so many factors can play a part in your total postage cost, but if you don't budget something you're likely going to be in for some sticker shock.
Wondering how to budget for postage when you're still figuring out how many invitations to order?  For a quick guide on how to estimate the number of invitations to order, check out my blog post on the topic HERE.
A HELPFUL REMINDER: It is one invitation per household, not per person. 
This blog post is meant to serve as a quick guide to help with budgeting for postage costs, for your wedding stationery, or really any stationery.  However, I am not affiliated, nor am I an employee, of the USPS. For all official questions, please refer to www.usps.com or visit your local post office. 
At an absolute bare minimum, I recommend adding $1.10 per invitation and if you are sending save the date cards as well, you'll want to add in an additional $0.55 for each of your save the date cards, to your budget. You may be asking yourself, "Where in the world did she come up with that?" I'll break it down: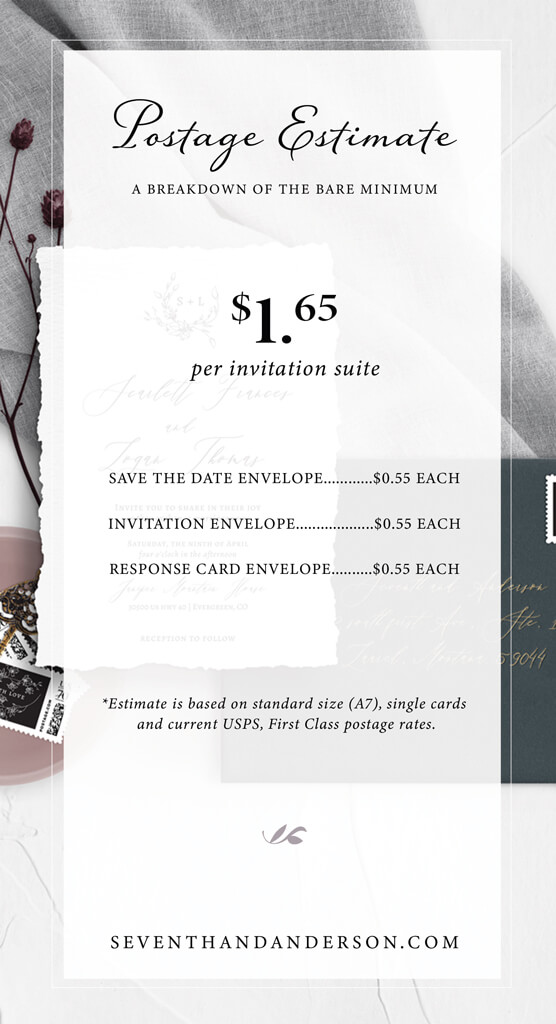 The above estimate is meant as a reference to help you begin budgeting for mailing your wedding invitations. However, expect to use more postage on your wedding invitations than you think. Have additional enclosure cards? Add postage. Wax seal? Add postage. More than 1oz? Add postage. 
There are so many things that affect postage, and this is the number one way to get your envelopes returned to you. Every Post Office's scale is a little different, so I highly recommend that you weigh your invitations at the exact PO you'll be mailing from before purchasing or applying stamps.  
Other things that will up your postage are not so intuitive, such has adding a ribbon or using a square envelope. This will require what's called a "nonmachinable surcharge" because it requires hand-cancelling of the stamps. Right now, that cost is and additional $0.15 Unfortunately, your local PO may have slightly different regulations or ways of enforcing them. Always check with them before making any final postage decisions! 
General Pricing Guide
FOR MAILING YOUR WEDDING INVITATIONS
A7, 1oz envelope.....................................$0.55 each

4Bar, 1oz envelope..................................$0.55 each

A7, 1oz envelope + wax seal...................$0.70 each

A7, 1oz envelope + ribbon......................$0.70 each

A7, 2oz envelope.....................................$0.70 each

A7, 2oz envelope + wax seal....................$0.85 each

Postcard (sometimes used for RSVP).....$0.35 each

Square, 1oz envelope...............................$0.70 each

Square, 1oz envelope + wax seal.............$0.70 each

Square, 2oz envelope + wax seal.............$0.85 each
SOME THINGS TO NOTE:
If your envelope is 1oz and more than 1/4″ thick, the additional $0.15 surcharge will also apply.
If you are paying the "non-machinable" surcharge for an odd, i.e., square envelope, you will not have to pay an additional $0.15 for adding a wax seal. This is the additional cost for hand-cancelling the envelope, so if they are already doing this due to the square shape, they don't need any additional for the wax seal. If, however, you go over 1oz in weight, be expected to pay an additional $0.15 for a second ounce!
Every single Post Office is run by a human, and thus every single one will be slightly different.  Checking in with your local PO and talking with them about your invitations is the best way to ensure the best results! I try my best to estimate postage for my couples, but your local folks are the ones who are going to be sending them out, and their requirements are the ones you should always refer to when mailing your invitations for your wedding!