THE ANATOMY OF A WEDDING SUITE
Ever wonder what you need to include in your wedding invitations? Keep reading to learn more about the various pieces and components that go into creating a full wedding suite.
The following pieces are the most common items you'll find in a wedding invitation suite. You may need all of these pieces (and more), or just a few of them – it depends on your wedding!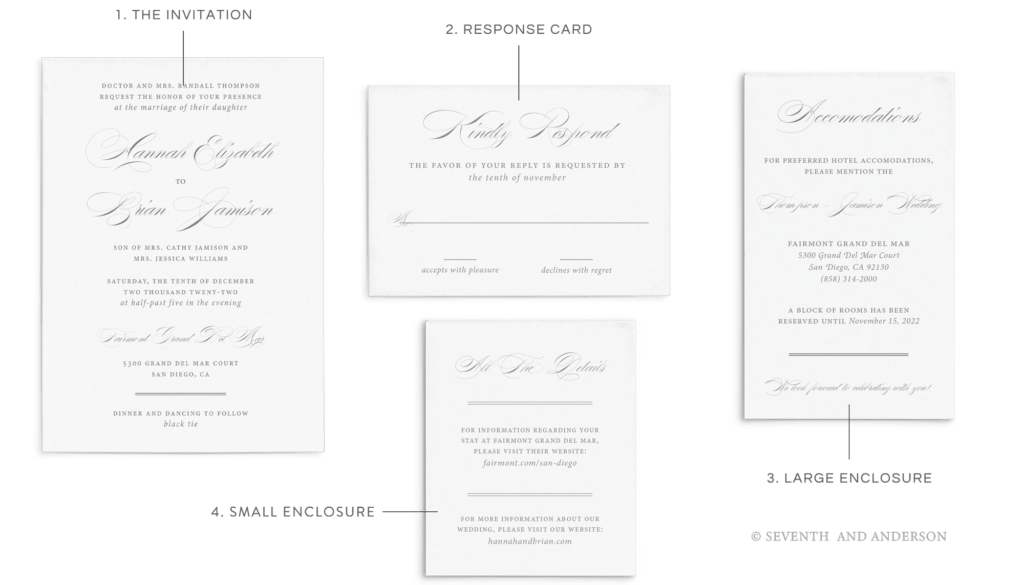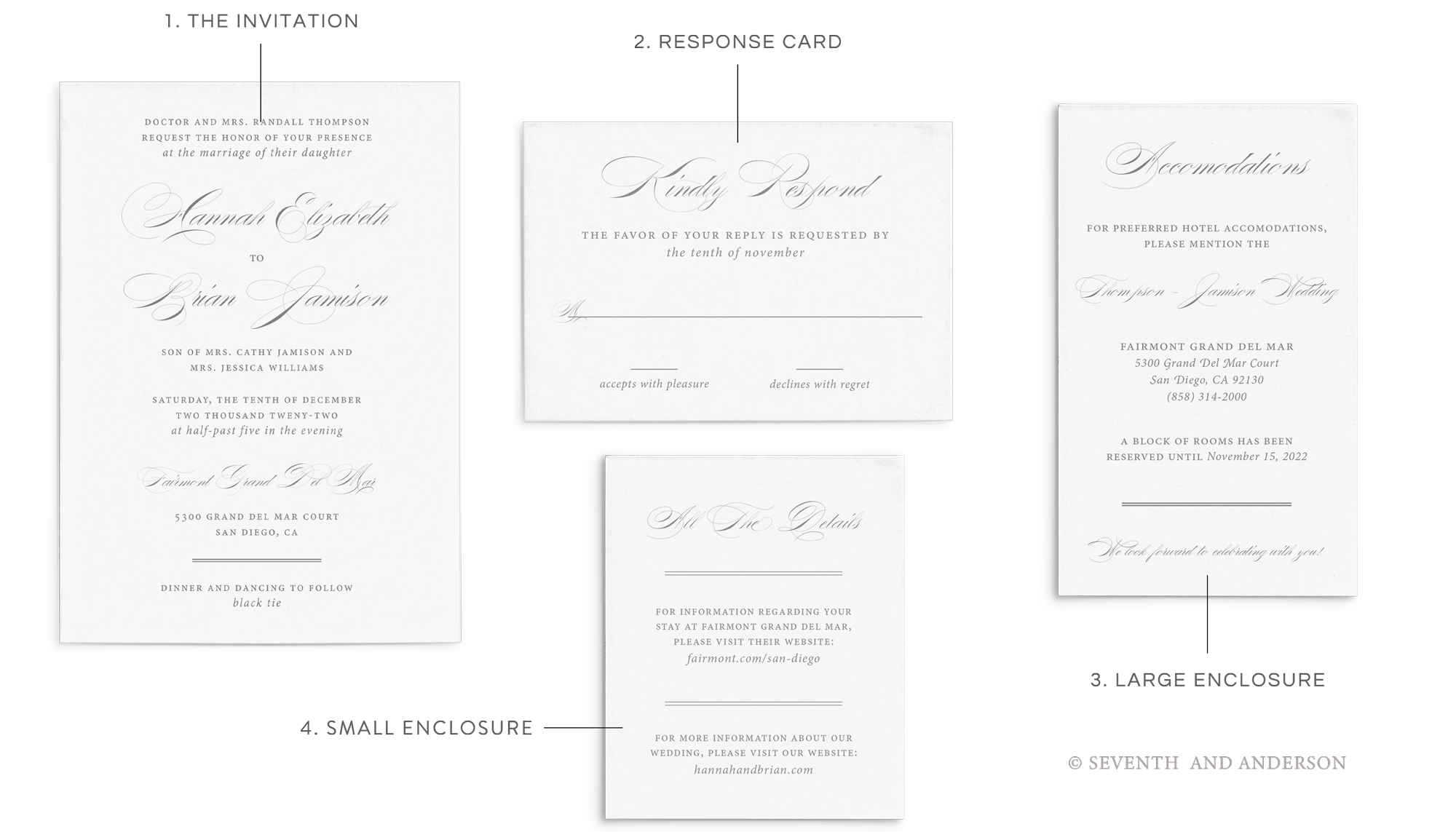 The invitation is the star of your wedding suite. It tells your guests the who, what, where, and when of your wedding. 
Your guests will return this card indicating who is attending as well as their meal choices, if applicable.  
Standard Size: 3.5″x5″
Can be vertical or horizontal
This card can be used for any information you'd like to share with your guests, but is most commonly used to list preferred accommodations, transportation, or directions for your out of town guests. 
Other uses include transportation and shuttle, pre- or post-wedding activities, brunch details or rehearsal dinner details.
Standard Size: 3.75″x6″
Can be vertical or horizontal
The small enclosure is most commonly used as a reception card. If your ceremony is at a different venue than your reception, you will want to use the small enclosure to note the reception address and start time.
Other uses include wedding websites, welcome receptions, registry details, wishing well requests, or any other brief information you'd like to share.
Standard Size: 3.5″x4″
Can be vertical or horizontal
If your wedding invitation suite contains multiple pieces, consider using one of the following finishing touches to keep everything in place.
This strip of paper wraps around all of the pieces of your wedding invitation suite to hold everything together.
Skinny Belly Band:  1.5″x11.25″
Standard Belly Band: 1.875″x11.25″
Vellum jackets are a great way to add another level of interest to your wedding invitation suite. Secured with twine, ribbon, or a wax seal, it brings it all together for a truly sophisticated design.
Comes professional scored and pre-folded
Perfect for 5″x7″ invitations
Use personalized wax seals to add interest or secure your belly band or vellum jackets. This is the perfect place to feature a monogram or design element. Comes pre-stamped with an adhesive backing for easy application. 
Other uses include envelopes, escort cards, menus, seating charts, or incorporating it into your main wedding invitation.
Standard Size: 1″ round
Also available in oval, square, and larger rounds
Similar to a belly band, ribbon can be used to secure all of your wedding invitation pieces together.
Additional uses include tying flatware, favor tags, creating photo backdrops and other wedding decor.
Available in a variety of colors and widths.


Envelopes are a crucial component of your wedding invitation suite. Wedding invitations can be sent in single or double envelopes, also known as inner and outer envelopes.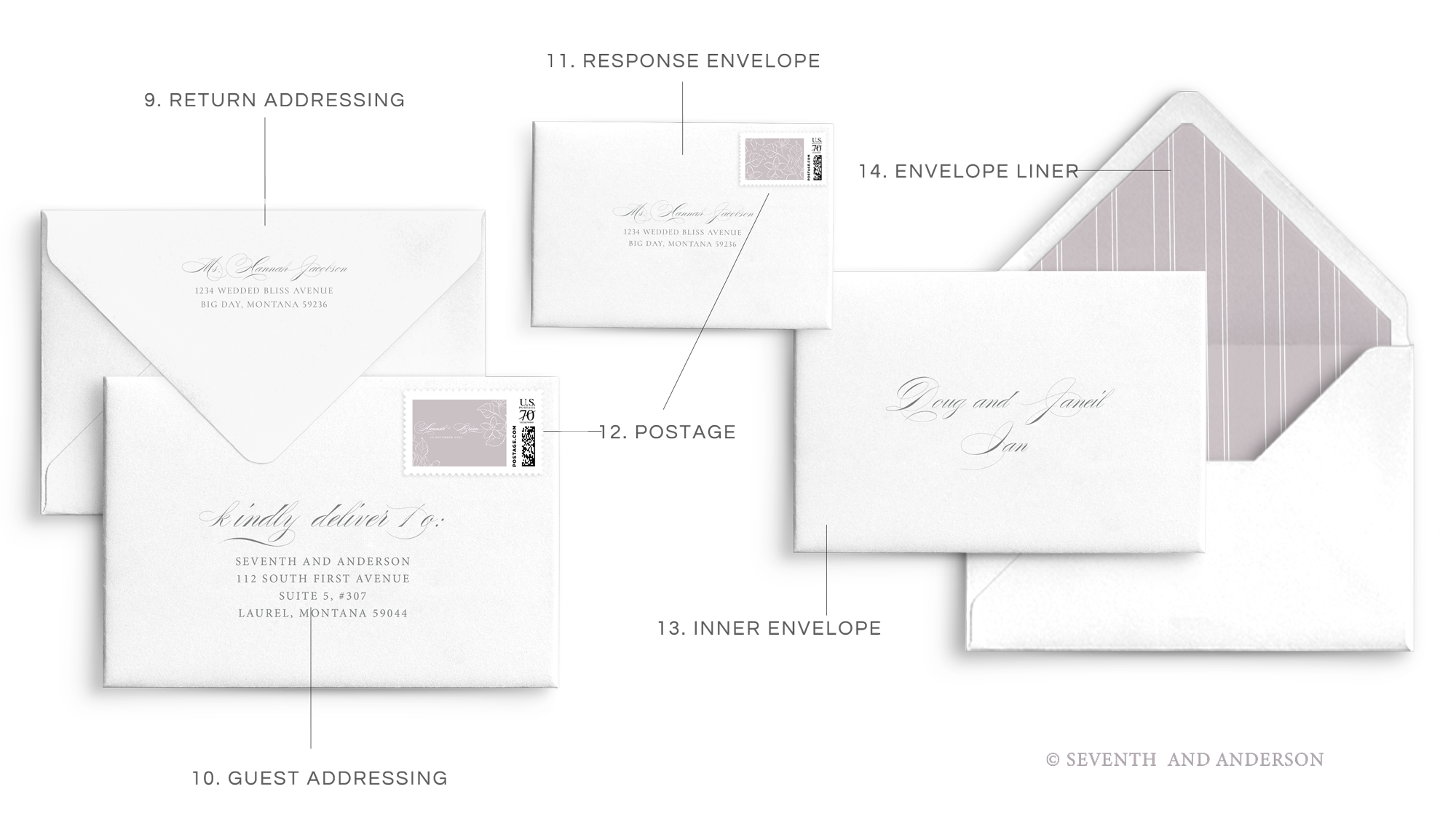 The return address is generally printed on the back flap of the envelope. Names are optional.
Your guests' name and mailing address is handwritten or printed on the front of the mailing envelope. Use full names, do not abbreviate addresses or states.
Include a pre-addressed, stamped envelope so your guests can easily return their response cards. The host's address is generally used, and be sure to include a name.
Most wedding invitation suites will require extra postage. Take an assembled wedding invitation suite to the post office so they can weigh it and tell you the correct postage amount.
Use an inner envelope to individually list each of your invited guests. This is also a great way to clearly indicate if a guest can bring a date or if children are invited.
A piece of paper that is attached to the inside of your envelope. It can be a solid color, a pattern, or even something fun like velvet, glitter or a vintage map.
Comes assembled.
I can always count on Janeil to use the most luxurious products and to deliver on a vision that only resides in my head.
Wanting something a little more custom?
the custom wedding invitation design you've been searching for is waiting for you.
Artfully crafted and classically designed, your custom wedding invitations will masterfully combine text, color, and illustrations to create a one-of-a-kind masterpiece that tells your love story, perfectly.
You already know what being in love feels like, but this is what falling in love looks like. Let's make it beautiful.