Want to know the number one question I am asked? "How much?" Okay, it's usually phrased a little more politely, but price is a valid concern when you are shopping for anything, and your wedding stationery is no exception. Just as there is no "one size fits all" wedding invitation suite, the same is true for pricing.
While I wish I could give you a quick answer, there are a number of variables that will contribute to the overall cost of your stationery. Printing method, size and number of enclosure cards, and the addition of any accessories, such as wax seals, are just a few examples of the things that factor into the cost. However, before I can begin to tell you "how much," there is absolutely one answer I need from you: "How many wedding invitations do you need?"
This post will give you the down and dirty on how to decipher the answer to this question. *HINT* It's probably not as many as you think!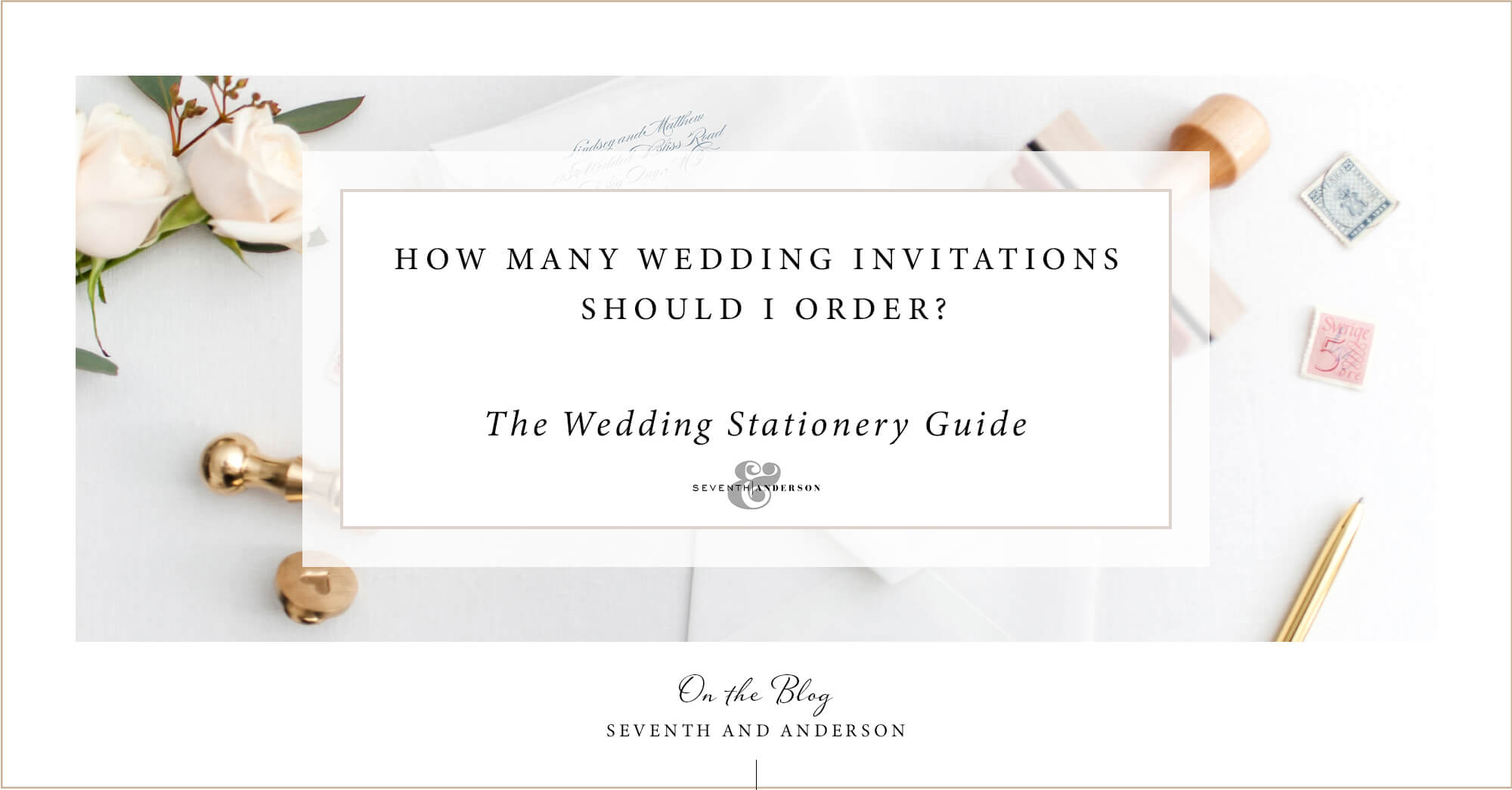 Consider this: Your headcount is probably bouncing around in your head as a critical number for every vendor from the ceremony site to the caterer – since that is the number they are looking for. Want to know a secret? The number of wedding invitations you need is NOT the same as the number of guests you are inviting. Yes, you read that correctly! Many, if not most, of your guests are members of the same household, which means you can double (or triple, or quadruple!) up to how many individuals a particular invitation is addressed to. This can translate into major cost savings for you. Here's a few tips on how to figure this out.
1. ONE INVITATION PER COUPLE
Send one invitation to a married couple or a couple living at the same address. 
2. ONE INVITATION PER FAMILY UNIT
Parents and children living in the same household, i.e. – your uncle, aunt and 3 cousins – can all be listed on a single invitation. However, children over the age of 18 should receive their own invitation, even if still living in their childhood home. 
3. ONE INVITATION PER SINGLE PERSON
You can send a single invitation to a non-married guest who is invited to bring a date, if you so choose. Simpy add "and guest" to the envelope following the persons name.
*Note – If you know the name of the guest-of-your-guest, as in a situation where you are inviting someone with a lon-time boyfriend/girlfriend, it is nice to address the inner envelope to both people, even if they don't live at the same address. For example, you would address the outer envelope to "Ms. Grace Johnson" and the inner envelope "Grace and Steven." While this is a variation to wedding invitation etiquette, it lends itself to a more personal approach over the more impersonal "and guest."
4. INVITING A SET OF ROOMMATES?
Send roommates their own invitation, even if they are living in the same household.
You'll want to be sure and include extras when ordering your wedding invitations. I recommend 10-15 extra, however, if you want to make sure you have more than enough, stick with the industry average of ordering 10% over your guest list. For your wedding of 200 guests, you'd want to order an extra 20 invitations.
Extra wedding invitations are helpful in case you:
 – forget to invite a friend from work
 – have initial cancellations and have room in your guest list to invite additional guests
 – have an invitation returned from the postal service and you need to resend and/or it was damaged during mailing
 – an invitation gets damaged during assembly
 – for keepsakes
It is much less expensive to order extras when ordering your invitations than to have to re-order later!

Did you know – At Seventh and Anderson I price everything separately, including your envelopes. This allows you to purchase extra envelopes for addressing errors, etc, without having to pay the full cost of a wedding suite! A great cost savings for you!

A quick way to figure out the total number of invitations you'll need to order is to count the number of addresses on your guest list spreadsheet. 
But what if it's early in the planning process and you don't have your guest list finalized yet? If that's the case, a good rule of thumb to get a decent estimate is to add 25 to half the total number of guests you want to invite.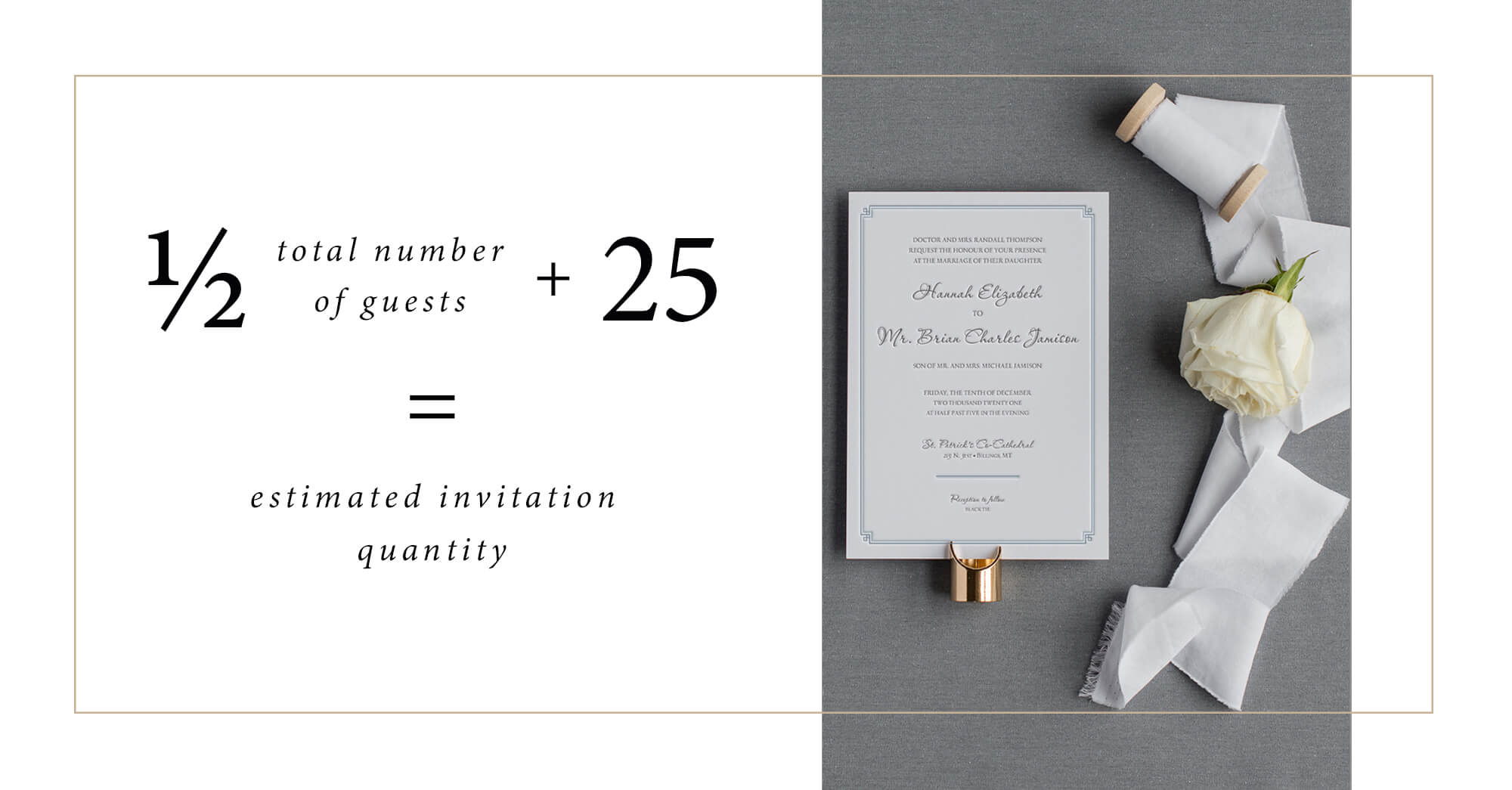 Let's say you plan to invite 100 guests. 100 divided by 2 + 25, gives you an estimated invitation quantity of 75.
This is just a way to get you started. You'll want to double check your numbers once your guest list is close to being completed. Also, PLEASE make sure you let your stationer know if your quantity changes from your initial estimate. It is so much more expensive to order an extra 5 invitation suites after everything has been printed. You'll also want to let your stationer know if you need fewer invitations. It's always nice to have extra but you don't want stacks of them going to waste!
Now that you know how many wedding invitations you need, browse the Studio Collection  or schedule your consultation so we can chat about the details of your wedding invitations!